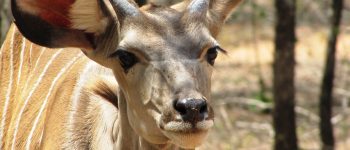 Umvangazi Rest – Relax under the African Kiaat Tree – Our tranquil home is situated in Marloth Park, a nature conservancy bordering the Crocodile River and the Kruger National Park.  Here the game freely roams.

Warthogs, various buck species, monkeys, baboons, zebras and giraffes can be seen around the houses within Marloth Park.  From viewing points you overlook the Kruger National Park where various animal species can be spotted….
Come and enjoy a relaxing, rejuvenating and peaceful setting in the bushveld. Umvangazi Rest is a self-catering house. It has an open plan kitchen and lounge area leading out onto a patio. Whilst relaxing outside, you can enjoy a braai/barbeque, have a bonfire in the boma or take a swim to cool off in the splash pool.
Venture upstairs to the deck and enjoy the view and relax whilst keeping an eye out for the animals coming by for a drink at the water holes closely situated to the house.
Contact Person: Taryn / Bertus Engelbrecht
Email: umvangazirest@gmail.com
Contact Numbers: 083 679 9429 / 063 683 4761
Physical Address: 183 Kiaat Road, Marloth Park, Mpumalanga, 1321
GPS Co-ordinates: -25.396427, 31.763429
Costs: from R1,600 per night
2 Nights minimum
50% deposit

Check in:  from 14:00
Checkout: By 10:00
Children of all ages are welcome